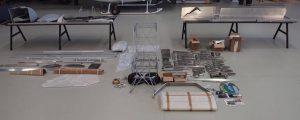 Approximately three months after placing your order with Groppo Australia, you will receive two wooden crates. One of these crates contains the steel frames and the other crate will contain all the other pieces like the sheet metal components, flight controls, hardware etc etc.
Now there are a lot of pieces in the second crate and it is important to do the following to ensure a trouble/hassle free build.
Firstly, and make sure you have adequate space before you start, lay out all the pieces and check for any defects and/or transit damage. This could be anything from poorly milled parts to bent or punctured sheet metal components from a forklift or dropped crate (ours had some damage to the crate and some sheet metal components from shipping handling… most likely a forklift). If there are any defects with manufacturing, contact us at Groppo Australia to organise replacement parts, if there is evidence transit damage you will have to fight that one out with your shipping company.
Once you have assessed that all your parts are in good order, it is time to catalogue the parts and store them until they are required for the build. You will have received a list of parts supplied with your order (this list varies with various options ordered). We found the best way to catalogue the parts was to use the parts list in conjunction with the construction manual to check off all the parts (excluding hardware) required for each step and store them as "Step 1", "Step 2" etc etc. however, we have noticed some discrepancies with the parts list and construction manual omitting some required parts. It is almost impossible to know these parts are missing until you find out that you need them during construction. We will endeavour to get a list of additional parts required published in a (near) future post followed by an updated construction manual so that you can rest assured that you have all you need to complete your Trail.
It is advised that you have an extra set of hands available to help with the unpacking and storage of your kit as some of the sheet metal pieces are long and are only 0.016" thick. As such these pieces could be difficult to move without causing damage if undertaken alone.
Once all your parts have been inspected, catalogued and stored, it is a good time to crack a beer, put your feet up and mentally prepare yourself for the coming weeks of drilling, de-burring, cutting, filing, prepping, painting, riveting and all that other fun stuff.
Happy Building…..